Wrestling Practice Attire (Part One)
By: Zoey Lints
Depending on the weather, if you need to lose weight, and the workout itself. Wrestlers need to dress accordingly for practice. After all, you want to get the most out of your practice and not have your clothes prohibit your movement.
New to the sport? Check out this Complete Guide to Wrestling Shoes, Kneepads, headgear, and more!
Clothes for Losing Weight
When trying to lose weight to make your weight class, you should definitely wear layers. This should include a long sleeve shirt under a sweatshirt. Make sure that if you wear a sweatshirt, there is NO metal on it, including zippers because they may scrape up against your partner's skin.
You may also want to wear more layers, according to what makes you comfortable. I usually wear leggings under sweatpants so I can sweat more. I recommend this so you can shed the extra pounds before your next tournament.
Obviously, tuck your sweats into long socks.
Be Aware of the Weather
If it is a hot day, or just hot in your wrestling room there are a few things to be aware of. You may want to wear a short sleeve shirt, but should try to wear a long sleeve shirt. This is to prevent skin infections and keep your skin clear from bacteria.
If you do choose to wear a short sleeve shirt, make sure you use disinfecting wipes to wipe your skin down during water breaks and after practice. I usually prefer not to wear shorts because they are so short. When I do wear shorts I wear the athletic ones that go to my knee.
On a cold day you should wear sweatpants or leggings with a sweater or long sleeve shirt.
Dress for the Workouts
Depending on the workouts and drills you do at practice, you need to dress appropriately. You may not know what you will be doing at practice, so your best bet is to wear leggings and a shirt.
Make sure you never wear loose clothes to practice. Loose clothing can be pulled, lifted easily, and not sustainable. Dri-fit shirts are usually a go-to for me, as they don't show sweat and fit well.
Now that we have gone through the different clothes to practice, here is a chart that sums it up: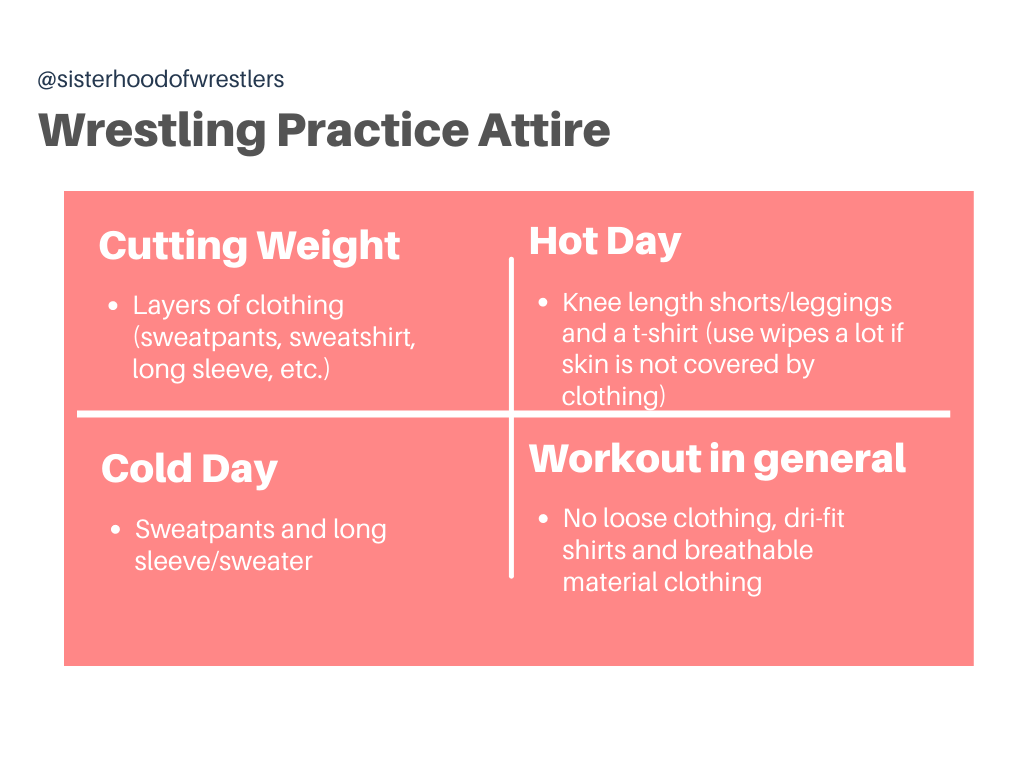 After Practice
Since you may be drenched in sweat after a wrestling practice, you should make sure to bring a towel to wipe down. Many wrestlers prefer having a change of clothes to wear after practice to feel more comfortable and not wear sweaty clothes. Also, you should bring a jacket in case it is cold outside.
You definitely want to be covered up instead of being in the cold, sweating– that's never a good feeling.
Dressing for a wrestling practice is very simple. Just keep in mind of how different clothes can affect your practice.
Check out this Complete Guide to Wrestling Shoes, Socks, Kneepads, and everything else you can think off